On the 100th anniversary of Wallace's death in November 2013, the Wallace Memorial Fund donated a magnificent bronze statue of Wallace to London's Natural History Museum. The Museum placed it beside their Wildlife Garden staring up at the Darwin Centre 2 building (somewhat ironically)... The spot it was in was relatively secluded, which led to a number of acts of vandalism: the glasses were stolen twice and had to be replaced, and the donor's plaque on the back of the statue was prised off and pocketed... Now, 2.5 years later, the statue has been moved indoors - where it will hopefully be a bit safer from thieves and vandals. It is now located on the second floor above the Museum's iconic Hintze Hall, just around the corner from the Museum's impressive slice of Giant Sequoia trunk.
The statue has been displayed on a nice new bronze and white marble base and the missing donor's plaque has been replaced by a replica, which is actually nicer than the original. So far the bronze model of Wallace's golden birdwing butterfly - which the statue is supposed to be staring up at - has not been installed. We hope it will be as it is an essential part of the artwork.
The sculptor of the statue, Anthony Smith, intended the piece to depict the moment when Wallace first saw the magnificent male of the golden birdwing butterfly (Ornithoptera croesus) [then new to science] in the rainforest of Bacan Island, Indonesia. Wallace is looking upwards and by following his gaze the viewer is supposed to see a bronze model of the butterfly, which is the focus of his attention...
The golden birdwing butterfly is perhaps the most spectacular of all the hundreds of butterfly species Wallace discovered in the Malay Archipelago and his description of the capture of the first male in 1859 has become legendary:
"The beauty and brilliancy of this insect are indescribable, and none but a naturalist can understand the intense excitement I experienced when I at length captured it. On taking it out of my net and opening the glorious wings, my heart began to beat violently, the blood rushed to my head, and I felt much more like fainting than I have done when in apprehension of immediate death. I had a headache the rest of the day, so great was the excitement produced by what will appear to most people a very inadequate cause." (from Wallace's book The Malay Archipelago).
The statue in its new location.
The new donor's plaque before installation.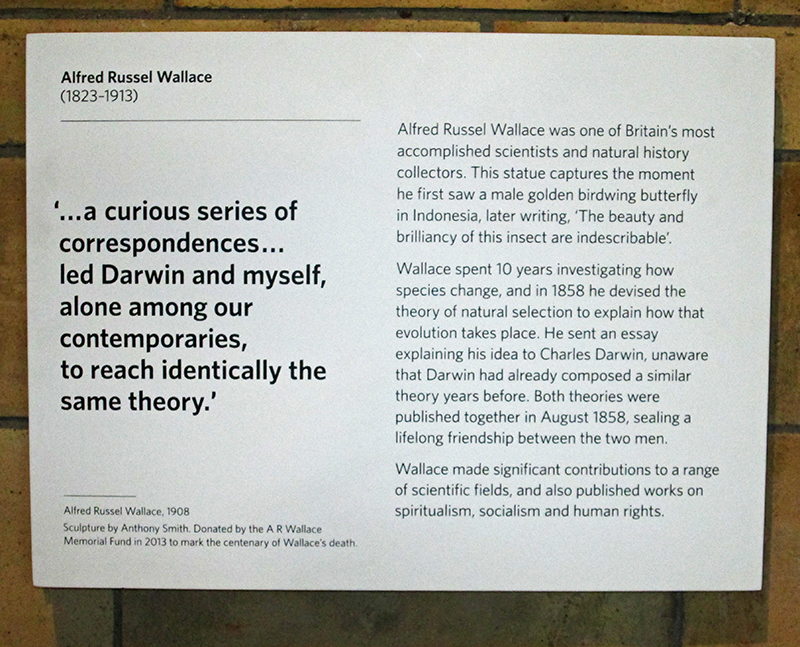 Sign on the wall near the statue.